Professional Web Design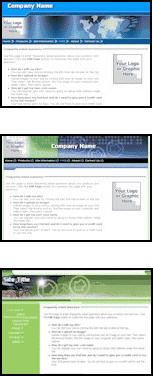 When you select The Internet Solution for your business, you will be able to choose from over 50 website design styles. After you pick a design style that you like, you can easily apply one of our preset color themes, or design your own using any custom color combination. After you've got the design you want, and the colors that you like, you can quickly add your own images, font styles, etc. using the proprietary site manager. Our user interface is very simple and easy to use, but if you should ever have a question or need support, you can always contact us, and we'll be happy to serve you.
One of the greatest benefits from using The Internet Solution to create your business website is that if you ever get tired of your existing web design, you can easily switch to a new design, and/or new colors and images from within the site manager. This means that your website can always have a fresh look and an interesting design, without the need to pay a web designer every time you are ready for a change.
Our web designs are clean-coded, stylish, unique and will load quickly and look great regardless of whether they're being viewed with Internet Explorer or Netscape; on a PC or Macintosh; on a desktop or laptop; on brand new computer system or on one that is several years old.
Every single website design includes:
Unlimited multi-level rollover menus
Custom Splash Pages
Interactive Contact/Feedback Forms
Guest Book
Polling Booth
Events Calendar
Interactive Message Board
Java Applets
Flash Animations
Mailing List Manager
plus many more features!